A Look Back at 2021 Food Safety, Quality and Regulatory Trends
Food Safety is almost always among the top 10 food industry trends globally every year.

It's a new year, and we decided to start a blog! In our first post we'll be looking at important trends and events in food safety and quality we saw in 2021.
According to The World Health Organization (WHO), ~ 600 million people, or 1 in 10, globally, become sick each year after eating contaminated food, with 420,000 people dying each year.
With new consumer demands seeking to put safe food on their tables, and with changing food safety regulations, it is now essential to have global standardized processes for food safety and quality, encompassing—but not limited to—sustainability, recall readiness, environment and allergen management, supply chain management and product traceability (from farm to table).
What Food Safety, Quality and Regulatory trends did we see in 2021?
Although there were slightly more Class 1 recalls in 2021, the trend continues to go down. The food industry continues to see noticeably fewer recalls, and with decreases in rate of food borne illnesses (due to Covid-19 pandemic).
Class 1 recalls in the United States from 2016 to 2021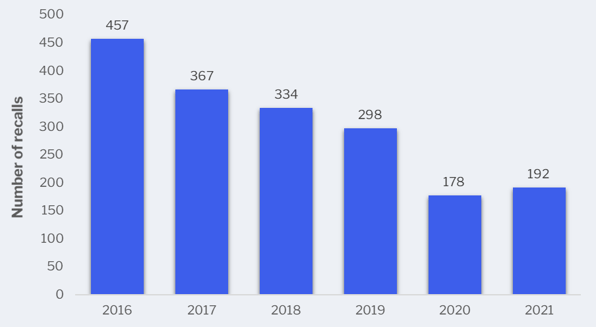 Food Recall Search - Food Industry Counsel
Covid-19 Impact
Looking at the positive side - a combination of fewer regulatory live inspections and an intense focus on production potentially led to fewer recalls. Enhanced handwashing and sanitation practices, decreased travel, restaurant closures, and remote work by non-essential workers with reduced workforce led to decreased foodborne illnesses.
Supply Chain: Crisis management programs - supplier approvals and food fraud were focus areas of the food industry to address supply chain disruptions
The digitalization efforts by the industry and by the Food and Drug Administration (FDA) saw an enhancement due to its effectiveness and fast traceability. The food industry has seen more growth in digitalization in 2021 than ever before to address needs.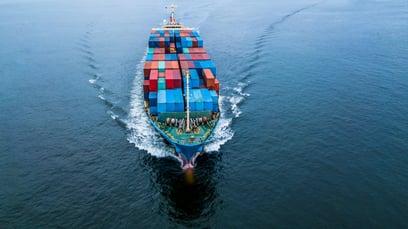 Food Defense
The U.S. FDA started routine inspections of small businesses in March 2021 to verify compliance with the FDA Food Safety Modernization Act's (FSMA) Intentional Adulteration (IA) rule. The IA rule requires food facilities covered by the rule to develop and implement a food defense plan that identifies significant vulnerabilities at actionable process steps (APS) and that implements mitigation strategies to address those vulnerabilities.
For additional information : Inspections of Small Businesses under the FSMA Intentional Adulteration Rule to Begin March 2021 | FDA
Key Regulatory Updates
On December 9, 2021, FDA released the Food Outbreak Response release Plan (Foodborne Outbreak Response Improvement Plan), to investigate Food-Borne Illness Outbreaks and to conduct Root Cause Analysis:

This plan is designed to help the FDA and their partners enhance the speed, effectiveness, coordination and communication of foodborne outbreak investigations. FDA is confident that the actions outlined in this plan will in turn translate into activities focused on enhancing the prevention of outbreaks.

Major Focus Area of the Plan include:

Tech-Enabled Product Traceback

Root-Cause Investigations

Strengthening Analysis and Dissemination of outbreak data

Operational Improvements

On November 4, 2021, Global Food Safety Initiative (GFSI) launches a new benchmark for auditors
A Coalition of Action of the Consumer Goods Forum. They brought together retailers, manufacturers, and expanded the Food Safety Community. They developed new benchmarks in response to increasing complex and duplicated requirements applying to new and existing auditors. For additional information: GFSI Announces First-Ever Food Safety Auditor Training and Development Benchmarking Requirements (food-safety.com)

During October 19—21, 2021, FDA hosted the New ERA of Smarter Food Safety Summit on E-commerce, which ensures the safety of foods ordered online and delivered directly to consumers
The summit was designed to help the agency improve its understanding of how human and animal foods are sold through Business to Consumer e-commerce models across the U.S. and globally.
While the number of consumers ordering food online has been steadily increasing over the years, the Covid-19 pandemic has made it skyrocket.
The goal for this summit was to identify courses of action to address potential food safety vulnerabilities, including those that may arise in the "last mile" of delivery.
The FDA intends to use what was learned during the public meeting, and from comments submitted to the Federal Register, to help determine what actions, if any, may be needed to keep consumers safe.
For additional information: New Era of Smarter Food Safety Summit on E-Commerce: Ensuring the Safety of Foods Ordered Online and Delivered Directly to Consumers - 10/19/2021 - 10/21/2021 | FDA

On October 22, 2021, USDA appointed 13 new members to the National Advisory Committee on Microbiological Criteria for Foods (NACMCF) along with 17 existing members
Members of the committee are chosen for their expertise in microbiology, risk assessment, epidemiology, public health, food science, and other relevant disciplines. 
NACMCF provides scientific advice and recommendations to the Secretary of Agriculture and the Secretary of Health and Human Services on public health issues related to the safety and wholesomeness of the U.S. food supply, including development of microbiological criteria, review and evaluation of epidemiological, and risk assessment data and methodologies for assessing microbiological hazards in foods. NACMCF also provides scientific advice and recommendations to the Centers for Disease Control and Prevention, to the Department of Commerce and to the Department of Defense.
The committee discussed enhancing Salmonella control in poultry products and Cyclospora cayetanensis contamination. For additional information: USDA appoints new members to food safety advisory committee | Food Safety News

On Sep 15, 2021 FDA launched a new Office of Digital Transformation
The office realigned FDA's information technology, data management and cybersecurity roles into a central office that reports directly to the FDA commissioner.
The reorganization was a significant step in the FDA's technology and data modernization efforts which began more than two years ago. This reorganization allows the FDA to bring more effective and efficient data and IT management, built on best practices, to streamline and advance FDA operations by reducing duplicative processes, implementing technological efficiencies using projects that deliver the most customer benefits, and promoting shared services within agency offices and centers to strategically and securely further the agency's regulatory mission.
For additional information: FDA Advances Data, IT Modernization Efforts with New Office of Digital Transformation | FDA

On August 7, 2021, Codex members support Paperless Trade Guidance
Codex members felt that the Covid-19 pandemic made it more important to have paperless exchange of official certificates between authorities of different countries.
Supporters felt a paperless exchange of official certificates would decrease the time and cost of trade, and could be connected to modern, risk-based and electronic methods to support controls and to inspect food to protect consumers.
Nicola Hinder, from Australia's Department of Agriculture, Water and the Environment, said "It's about harmonizing methods and procedures to protect the health of consumers, ensure fair trading practices and facilitate international food trade."
For additional information: Codex members support paperless trade guidance | Food Safety News

On August 8, 2021, national Authorities shared Opson results - EU Food Fraud taskforce updates
Operation Opson is a Europol Interpol joint operation targeting fake and substandard food and beverages. The annual crackdown is coordinated by Interpol and Europol with police, customs, national food authorities and private sector companies.
From December 2020 to June 2021, the focus was on wine and alcoholic beverages, honey, horse passports and meat, and seeds and plants. Some examples of the work by this committee:

A group commercializing horse meat judged not suitable for human consumption by using false documents.

Another operation on whiskey and alcohol resulted in 14 people being arrested or investigated.

Officials also found three wineries involved in the fraudulent bottling and labeling of wines with more than 25,000 bottles confiscated.

On May 17, 2021, WHO opened Consultation on Draft Food Safety Strategy
The World Health Organization (WHO) opened a public comment period on its draft food safety strategy. The proposed WHO Global Strategy for Food Safety 2022-2030 had input from a Technical Advisory Group (TAG) on Food Safety that held two meetings virtually in February 2021 and April 2021. The document serves as a blueprint for countries to strengthen their national food safety systems and promote regional and global cooperation.
For additional information: WHO opens consultation on draft food safety strategy | Food Safety News

In April 2021, FDA revealed a new plan called " Closer to Zero"

The FDA's plan, Closer to Zero, identifies actions the agency will take to reduce exposure to toxic elements from foods eaten by babies and young children—to as low as possible. FDA prioritized babies and young children because their smaller body sizes and metabolism make them more vulnerable to the harmful effects of these contaminants.
To make continual improvements, the FDA's action plan follows a four-stage iterative approach that includes research, regulatory, and outreach efforts and efforts will be seen in phases through 2024.
For additional information: Closer to Zero: Action Plan for Baby Foods | FDA

On March 14, 2021, FSMA's Produce Safety Rule was translated into Chinese and Portuguese
The Food Safety Modernization Act (FSMA) Produce Safety Rule (PSR) is now available in Chinese and Portuguese, besides Spanish and English.  This helps to ensure that this important produce safety regulation is accessible to a broad audience, according to FDA officials. The translations of the PSR can be found on the FSMA webpage.
For additional information: FSMA's Produce Safety Rule is now available in Chinese and Portuguese | Food Safety News
Cannabis update
Despite being legal in 36 states and four U.S. territories, marijuana is not legal at the federal level, which creates dramatic differences in regulatory requirements. The FDA has consistently declared that CBD cannot be lawfully marketed in food and dietary supplements because the cannabis-derived compound was first studied as a drug. Due to lack of federal guidance, many states are coming up with their own rules on the use of CBD or hemp extracts in food and dietary supplements, adding regulatory complexity to the market. Industry continues to petition the FDA to carry out safety assessments on CBD and to regulate it as an ingredient in food and dietary supplements.
Clear guidance of using CBD in food and dietary supplements from is awaited by the industry.
For additional information: Global regulatory trends in CBD use in food and food supplements | RAPS
Check back with us later this week for our next post about what trends to expect in 2022 for food safety and quality.
---
Novolyze empowers food & beverage companies to enhance food safety & quality performance and compliance in a rapidly changing environment. To learn more, feel free to contact us below.