Manage Your Sampling Plan Strategy With Novolyze's Environmental Monitoring Solution
The Novolyze Platform recently introduced sampling plan and scheduling features to streamline the creation of routine and investigation sampling and the management of your sampling plan strategy for environmental monitoring programs. Discover how these new features work in this post.
Create Sampling Points and Organize Them in Sampling Plans
Create new sampling points and make sure they are clearly identified by adding the hygienic zoning, a description in comments and pictures of the exact location (up to 3 images can be uploaded).

Add your new sampling points to the digital map of your plant to visualize all your sampling points and results in one place and uncover potential contamination hazards and blind spots. Select the building and building area, link the sampling point to a production line or specific equipment and define the analyzed resource (surface, water, air, etc.).

Link your new sampling point to an existing sampling plan or create a new one.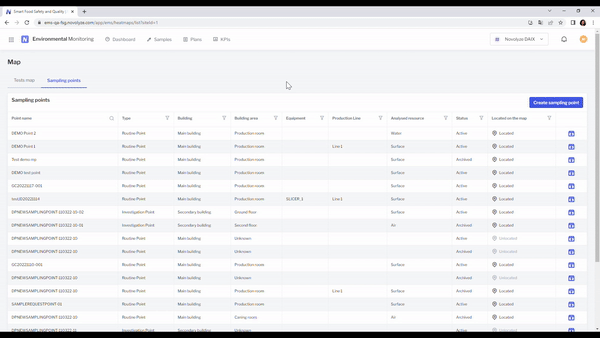 Schedule and Manage Sampling Tests
You can add one or multiple tests and sampling rules to each of your sampling points. Choose the test to perform: allergen, indicator organisms, pathogen, etc., the frequency and the start and end date. Define test conditions based on the hygienic zoning of your sampling point or any other conditions relevant to your sampling plan strategy.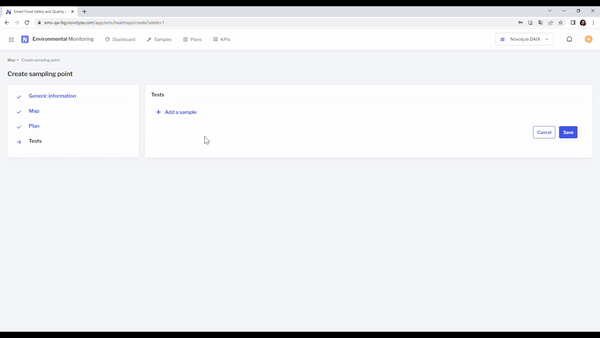 Once created, your samples are directly added to the calendar. They can also be consulted and edited from the Sampling Point's details page.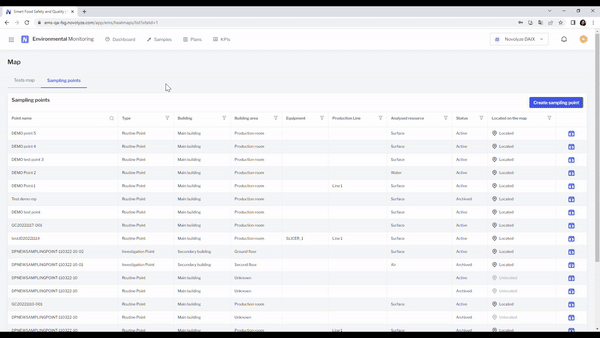 Monitor Sample Schedules Directly from the Calendar
View all your scheduled samples for the week on a calendar. From this view you can edit the date of a sample, delete a planned sample, or indicate when a sample is collected.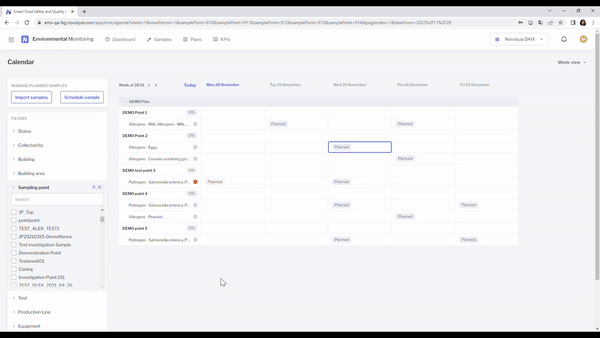 Ready to learn more about our Environmental Monitoring solution? Reach out to us to request a demo.