Outbreak and Recall Round Up - September 2022
In this month's outbreak and recall round up, we will start by taking a look at current FDA investigations of foodborne illness outbreaks. Since the beginning of the year, the FDA investigated 22 outbreaks and 9 of them are still active. The latest investigation, started on September 14th, is linked to Listeria monocytogenes contamination for which 6 total case counts were reported so far.
The table below is a recap of the investigations since the beginning of the year (last accessed 2022-09-19; source: FDA)

Latest Update on the Pizza Outbreak in Europe
Earlier this year, a major outbreak occurred in Europe linked to Buitoni's brand Fraîch'Up pizzas, produced by Nestlé in the Caudry plant (France). A total of 56 E. coli cases and two deaths were reported, caused mainly by E. coli O26, but also E. coli O103. During the investigation, more than 2,000 samples have been taken in factory environment, raw materials, silos and finished products.
Analysis of flour samples and certain finished products revealed the presence of E. coli. Tests on all production lines and the environment did not detect the pathogen. Based on Nestlé's communication, the most likely hypothesis was a contamination of the flour from the last wheat harvest that they did not detect. They stated that a series of measures to prevent the presence of E. coli have been put in place, and microbial testing and other controls will be carried out on all finished products.
Earlier this month an investigation revealed a reduction in cleaning time and preventive maintenance at the site over several years, according to employees. They also claimed that Buitoni went from using pasteurized flour to make the dough for it's Fraîch'Up range to a non-heat-treated flour, sometime in 2021.
At this time Nestlé is looking to resume operations and the company is waiting for approval from French authorities. If granted, the Caudry plant will restart in November.
US Recalls
In August, the US database reported 18 recalls related to food & beverages; 50% of them were linked to chemical hazards with 8 of them linked to undeclared allergens. Biological contamination led to 7 recalls. Contaminations from Cronobacter, Clostridium, Listeria and Salmonella have been reported. The recalls involved several brand names, companies and products.
EU Recalls
In August, 289 notifications have been reported for food products. The top 4 categories with most notifications, representing 51% are: fruits and vegetables (18%), nuts, nut products and seeds (14%), poultry meat and poultry meat products (10%) and herbs and spices (9%).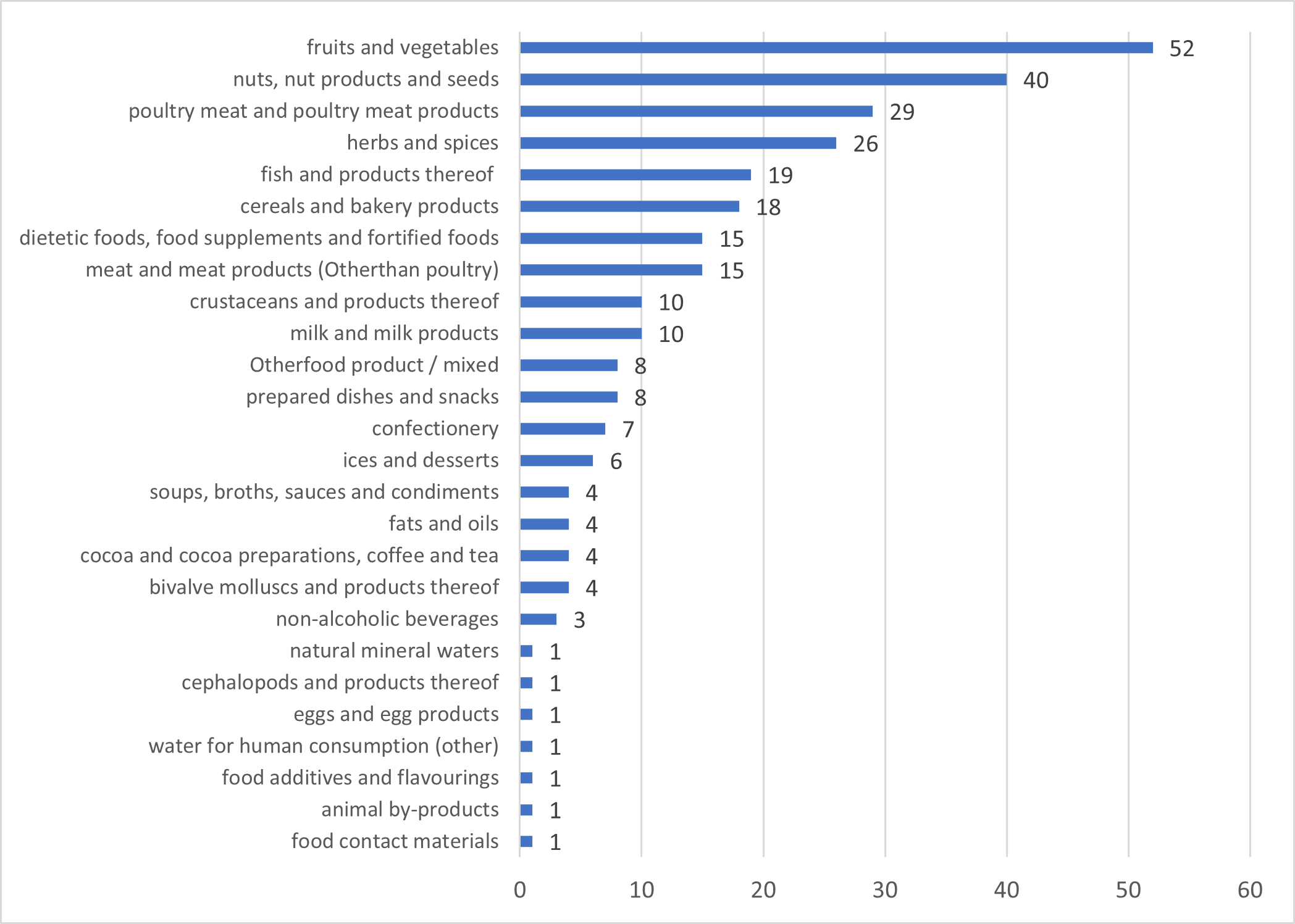 From the 289 notifications, most are associated with chemical hazards (42%).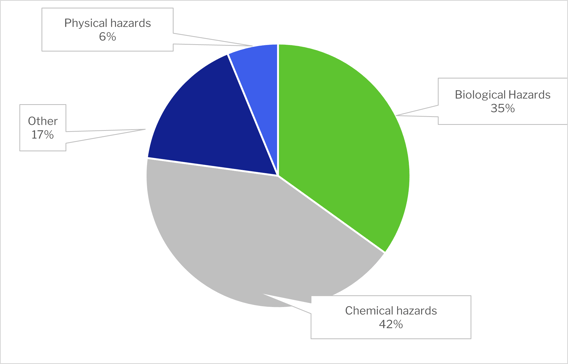 The chemical hazards are detailed in the graph below. The chemical hazards with most notifications are pesticides, mainly in fruits and vegetables (45%), followed by mycotoxin, mainly in nuts, nut products and seeds (51%).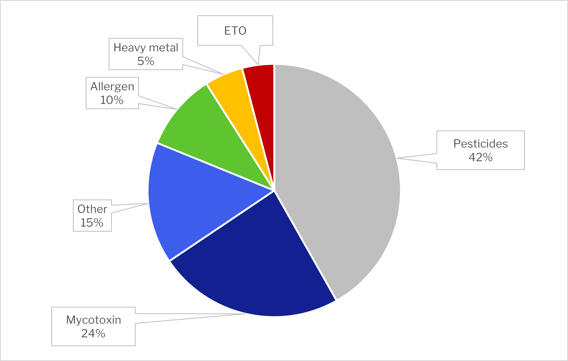 The biological hazards are detailed in the following graph. Contamination with Salmonella was the main cause of notifications, mainly in poultry meat and poultry meat products (35%), and nuts, nut products and seeds (35%).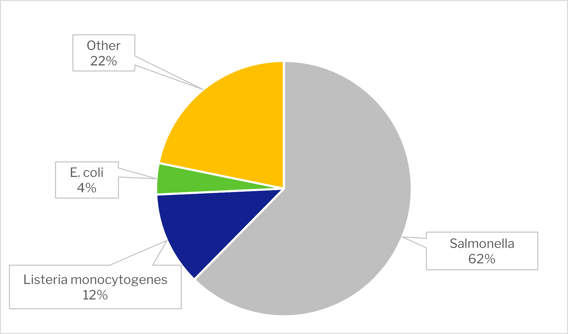 Month by Month Evolution
To finish this month's outbreak and recall round up, let's have a look at the evolution month by month of the total number of recalls for the US and EU, and by hazard type.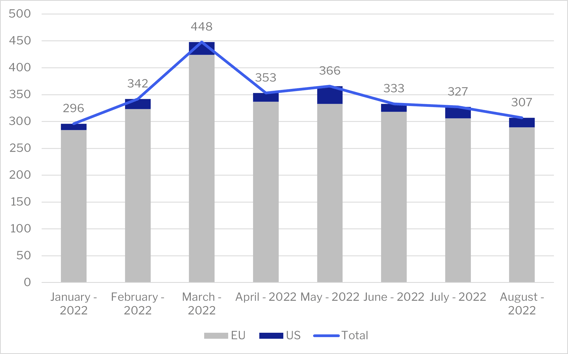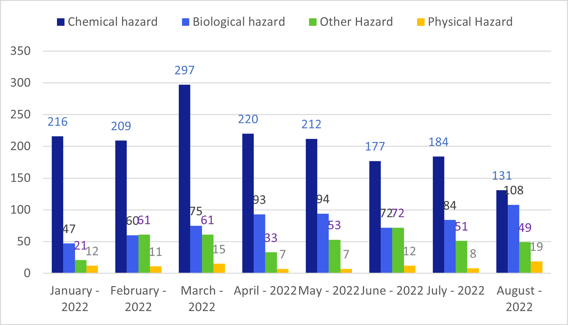 Don't miss next month's Outbreak & Recall Round Up. Subscribe to our blog.