Outbreak and Recall Round Up - May 2022
In this month's outbreak and recall round up, we will focus on current FDA investigations of foodborne illness outbreaks. Since the beginning of the year, the FDA investigated 9 outbreaks linked to more than 750 reported illnesses with 6 of them still active.
The latest investigation is linked to dry cereal for which 555 total case counts were reported. The cause of the illnesses hasn't been identified yet, and the FDA initiated onsite inspections and sample collections.
Here is the list of investigations for 2022.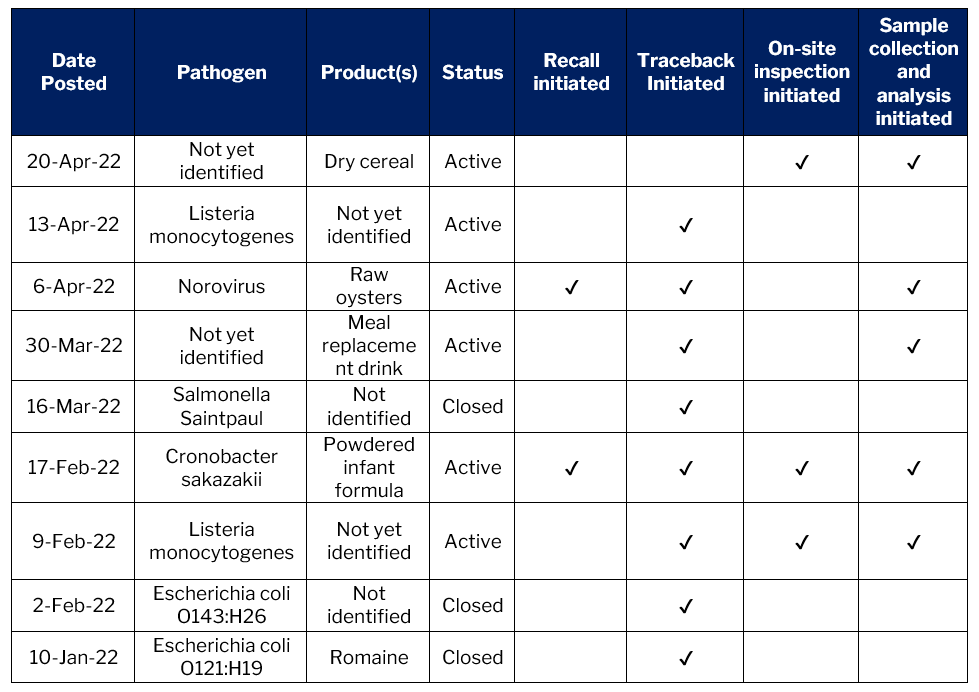 US Recalls
In April, the US database reported 16 recalls. Half of them were related to chemical hazard, 6 to a contamination with pathogens and the last 2 recalls were linked to foreign material contamination (metal and bone fragment). All the chemical contamination were due to undeclared allergens. The recalls involved several brand names and companies. Out of the 6 pathogen related recalls, half were due to Salmonella contamination and the other half for Listeria contamination.
EU Recalls
In April, 337 notifications have been reported for food products. The top 4 categories that count for more than half of the notifications are: fruits and vegetables (23%), nuts, nut products and seeds (12%), herbs and spices (11%) and cereals and bakery products (9%).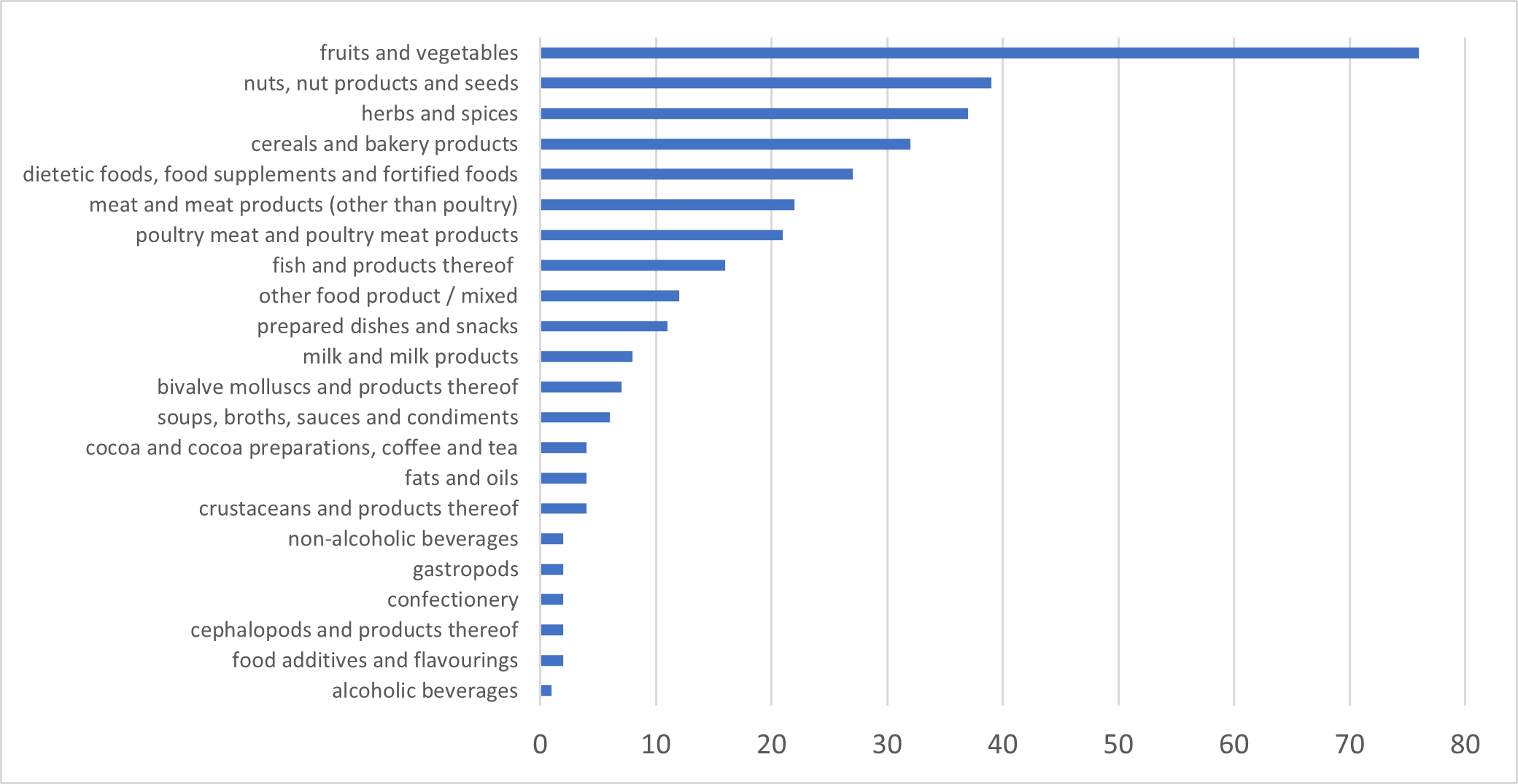 From the 337 notifications, the majority was associated to chemical hazards (63%).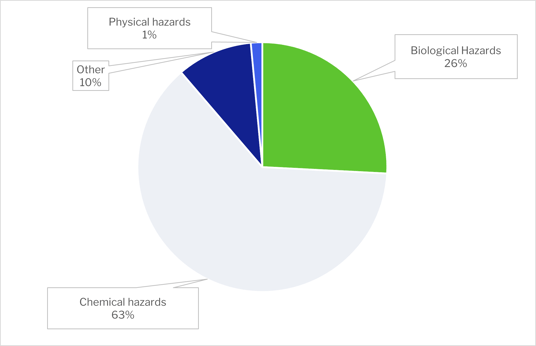 The details for chemical hazards are provided below. The main hazard recorded was pesticides, mainly in fruits and vegetables (69%), followed by mycotoxin, mainly in nuts, nut products and seeds (56%).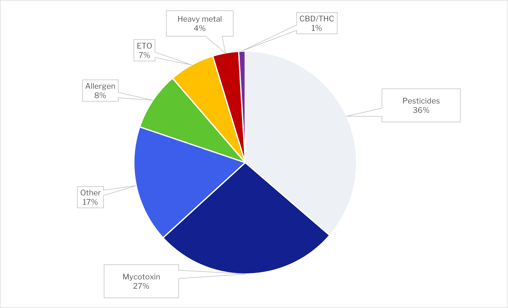 The main cause of biological hazard notifications is the contamination by Salmonella mainly in poultry meat and poultry meat products (38%).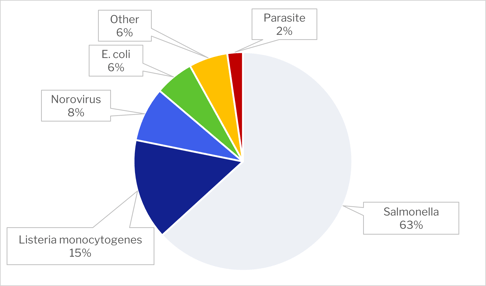 Month by month evolution
To finish this month's outbreak and recall round up, let's have a look at the evolution month by month of the total number of recalls for the US and EU, and by hazard type.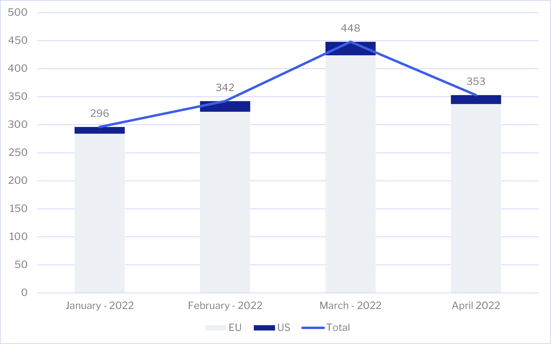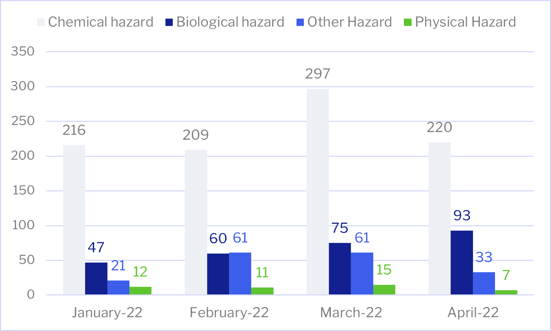 Don't miss next month's Outbreak & Recall Round Up. Subscribe to our blog.