Outbreak and Recall Round Up - March 2022
In this month's outbreak and recall round up, you will find a recap of outbreaks and recalls in the United States and Europe from the past month. A specific focus will be made on Cronobacter, as an outbreak involving the bacteria, in infant formula is already linked to four illnesses and two deaths.
US Outbreaks

(Last Update on March 15, 2022)
On February 17 and February 28, an outbreak occurred in powdered infant formula because of possible Cronobacter contamination. This outbreak is already linked to four illnesses and two deaths.
The most recent investigation details are summarized below:
From September 16, 2021, to January 5, 2022, the Center for Disease Control (CDC) received reports of 3 Cronobacter cases in infants that were later found to be included in FDA's ongoing investigation. On February 16, 2022, CDC asked clinicians and state and local health departments to provide information on other Cronobacter infections associated with infant formula from November 2020 through today. Since then, the CDC has identified on additional case of Cronobacter infection in an infant who consumed this formula.
What is Cronobacter?
Cronobacter sakazakii is a germ found naturally in the environment which can live in very dry places. The germs can live in dry foods, such as powdered infant formula, powdered milk, herbal teas, and starches. Cronobacter infection is not reportable in most states, meaning doctors are not required to report cases to their health department. Cronobacter illnesses are rare, but when infections happen, they can be deadly for infants. CDC typically receives reports of two to four infections in infants per year, but the total number of cases that occur in the United States each year is not known.
What are the symptoms of a Cronobacter infection?
The first symptom of Cronobacter infection in infants (0-1 year old) is usually a fever accompanied by poor feeding, excessive crying or very low energy. Some infants may also have seizures. Infants with these symptoms should be seen by a medical provider as soon as possible.
Cronobacter germs can cause a dangerous blood infection (sepsis) or make the linings surrounding the brain and spinal cord swell (meningitis). Infections in infants usually occur in the first days or weeks of life. Infants 2 months of age and younger are most likely to develop meningitis if they are infected with Cronobacter.
How can Cronobacter bacteria spread?
At a production factory, Cronobacter bacteria could get into formula powder if contaminated raw materials are used to make the formula or if the formula powder touches a contaminated surface in the manufacturing environment. Powdered infant formula could also become contaminated at home or elsewhere after the container is opened. For example, Cronobacter bacteria could get into the formula if its lids or scoops are placed on contaminated surfaces and later touch the formula, or if the formula is mixed with contaminated water or in a contaminated bottle.
US Recalls
https://www.fda.gov/safety/recalls-market-withdrawals-safety-alerts
In February, the Us database reported 19 recalls, 9 of them are related with Chemical hazard and the other 9 are related to a contamination with pathogen. For the Chemical contamination, 8 recalls were due to a contamination of lead in Dried salted Plums. The recalls involved several brand name and company. The last recall is due to undeclared peanuts allergen in yogurt Raisins.
For the 9 pathogen-related recalls, 6 of them are related to Listeria monocytogenes contamination in Enoki mushrooms (4 recalls) and ice cream products (2 recalls). The 3 other recalls are associated with Salmonella contamination. One of them is related to powdered infant formula with also a contamination of Cronobacter sakazakii, very dangerous for babies and children.
EU Recalls
https://webgate.ec.europa.eu/rasff-window/screen/search
In February 2022, 323 notifications have been reported, related to food products. Similarly to the previous month, the top 3 categories that count for almost half of the notifications are: fruits and vegetables, dietetic foods, food supplements and fortified foods and nuts, nut products and seeds.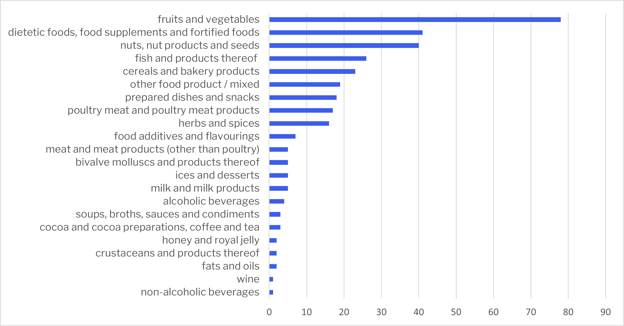 Chemical hazards were the main cause of notification (62%).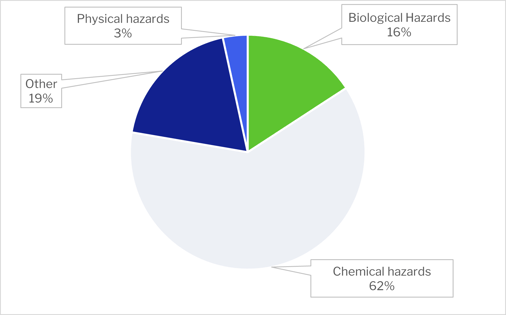 For the chemical hazards, the details are provided below. The main hazard is related to the presence of pesticides mainly in fruits and vegetables (79%), following by Aflatoxin mainly in nuts, nut products and seeds (60%).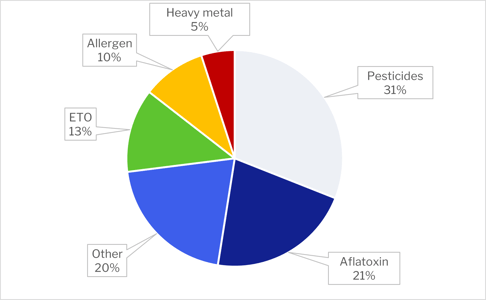 For the biological hazards, the details are provided below. The main hazards are related to a contamination of Salmonella mainly coming from Poultry meat and poultry meat products (51%).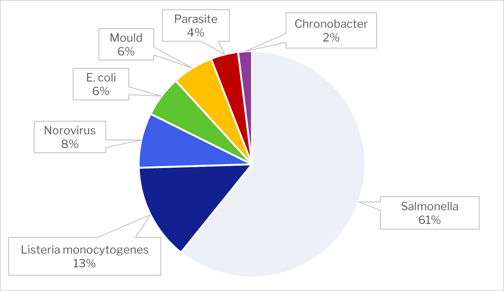 Don't miss next month's Outbreak & Recall Round Up. Subscribe to our blog.