Outbreak and Recall Round Up - July 2022
In this month's outbreak and recall round up, we will start by taking a look at current FDA investigations of foodborne illness outbreaks. Since the beginning of the year, the FDA investigated 15 outbreaks reported and 9 of them are still active.
The latest investigation is on frozen food products for which 277 total case counts were reported and 96 hospitalizations. This outbreak is linked to the company Daily Harvest with their Lentil & Leek Crumbles frozen product. From April 28 to June 17, 2022, approximately 28,000 units of the recalled product were distributed to consumers in the continental United States through online sales and direct delivery, as well as through retail sales at the Daily Harvest store in Chicago, IL, and a "pop-up" store in Los Angeles, CA. Samples were also provided to a small number of consumers.
The table below recaps all investigations in 2022 (last accessed 2022-07-22; source FDA).

US Recalls
In June, the US database reported 15 recalls; 67% of them were linked to biological hazards with 5 of them related to Salmonella, 3 to Listeria, 1 to Escherichia coli and the source of the last one is still unknown. The 5 recalls due to chemical hazards were all related to undeclared allergens. The recalls involved several brand names, companies and products.
EU recalls
In June, 318 notifications have been reported in the EU for food products. The top 4 categories that account for more than half of the notifications are; fruits & vegetables (24%), dietetic foods, food supplements and fortified foods (11%), poultry meat and poultry meat products (10%) and nuts, nut products and seeds (8%).
From the 318 notifications, more than half are associated with chemical hazards (54%).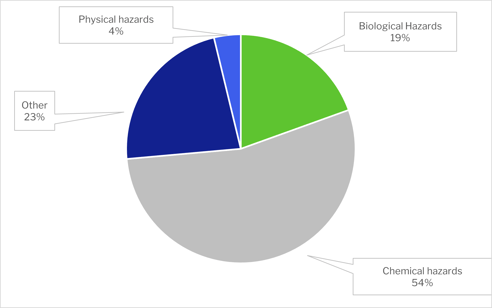 The main chemical hazards, representing over 40% of the notifications, was the presence of pesticides, mainly in fruits & vegetables (82%), followed by mycotoxins, mainly in nuts, nut products and seeds (43%).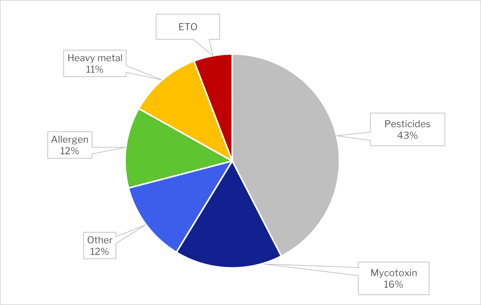 Salmonella was the main biological hazard in the EU in June, representing almost 3/4 of the notifications. It was mostly found in poultry meat and poultry meat products (67%).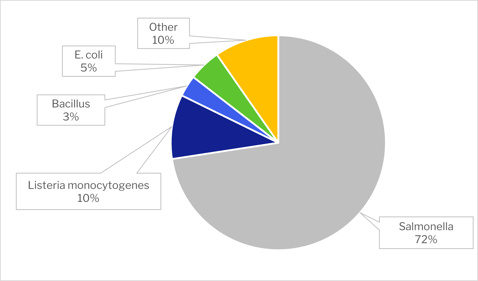 Month by Month Evolution
To finish this month's outbreak and recall round up, let's have a look at the evolution month by month of the total number of recalls for the US and EU, and by hazard type.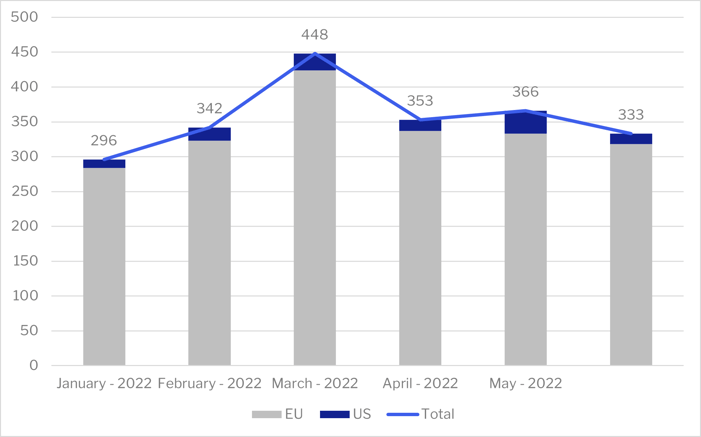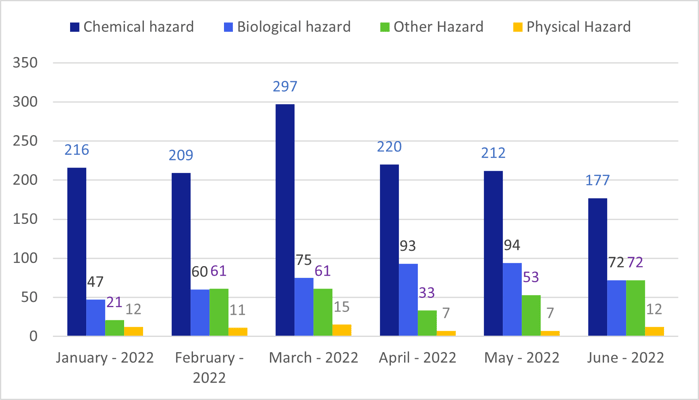 Don't miss next month's Outbreak & Recall Round Up. Subscribe to our blog.