Outbreak and Recall Round Up - December 2022
This is the last outbreak and recall round up of 2022. Let's start by having a look at the active FDA outbreak investigations. There are currently only 2 remaining active investigations. The product linked to the Listeria monocytogenes outbreak reported last month has been identified as enoki mushrooms. This outbreak led to 2 hospitalizations in 2 different states (Michigan and Nevada).
The details of the active investigations are shown in the table below. (Source: FDA, last accessed 2022-12-20)

Plant Linked to Deadly E. coli Pizza Outbreak in France Allowed to Reopen
Following the authorization by local authorities, Nestlé's plant producing pizzas in the North of France partially reopened on December 21. After nearly 9 months of interruption due to an E. coli contamination, activity restarted in the plant, excluding the production line of the "raw dough" pizza range implicated in the outbreak. The activity restarted for 3 days, before the holiday break from December 23 to January 2. According to the manufacturer, pizzas are expected on supermarket shelves in 3 months.
As a reminder, earlier this year, a major outbreak occurred linked to Buitoni's brand Fraîch'Up pizzas, produced by Nestlé in the Caudry plant (France). A total of 56 E. coli cases and two deaths were reported. Analysis of flour samples and certain finished products revealed the presence of E. coli but the pathogen has not been detected in the environment.
US Recalls
In November, 12 recalls related to food and beverages were reported in the US. Half of these recalls were caused by the presence of an undeclared allergen, including wheat, nuts, milk and soy.
Potential biological contaminations were responsible for 4 recalls last month:
2 recalls due to the potential presence of Salmonella in:

Fresh lettuce products

Cookies

2 recalls due to the potential presence of Listeria monocytogenes in:

Smoked salmon

Enoki mushrooms
EU Recalls
In November, 338 notifications were reported for food products in the European Union. The top 5 categories with most notifications, representing 55% of the total number of notifications were fruits and vegetables (14%), nuts, nut products and seeds (13%), dietetic foods, food supplements and fortified foods (10.3%), poultry meat and poultry meat products (9.8%) and cereals and bakery products (8%).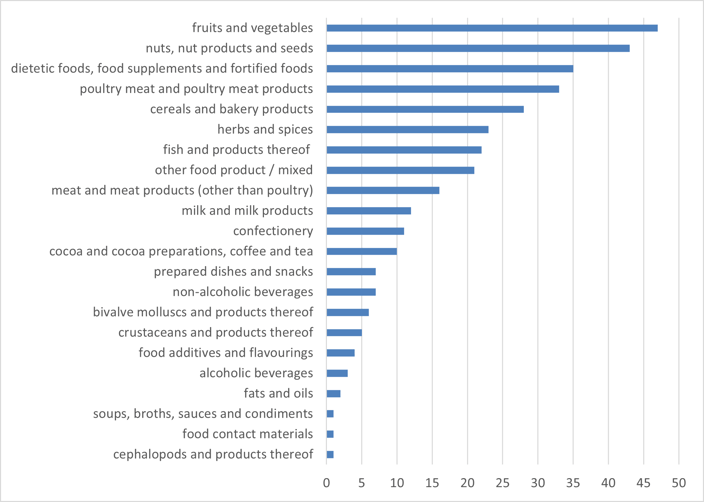 Chemical hazards were responsible for more than 50% of the notifications last month.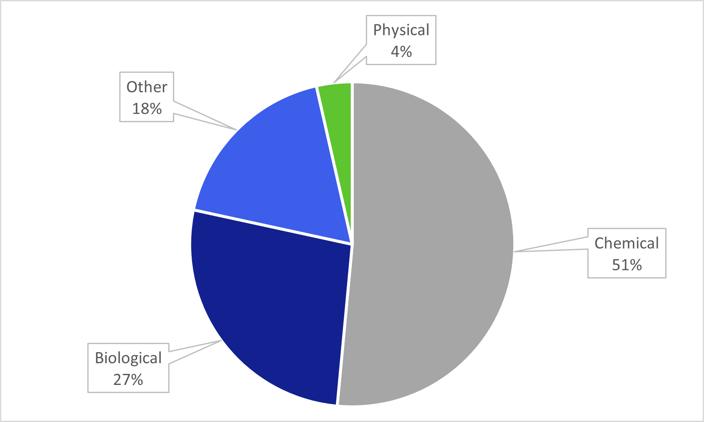 The graph below shows a detailed view of the chemical hazards. Mycotoxins caused almost 1/3 of the notifications related to chemical hazards. Mycotoxins were mainly found in nuts, nut products and seeds (36%) and fruits and vegetables (28%). Pesticides accounted for 29% of the notifications for chemical hazards, they were mainly found in fruits and vegetables (47%).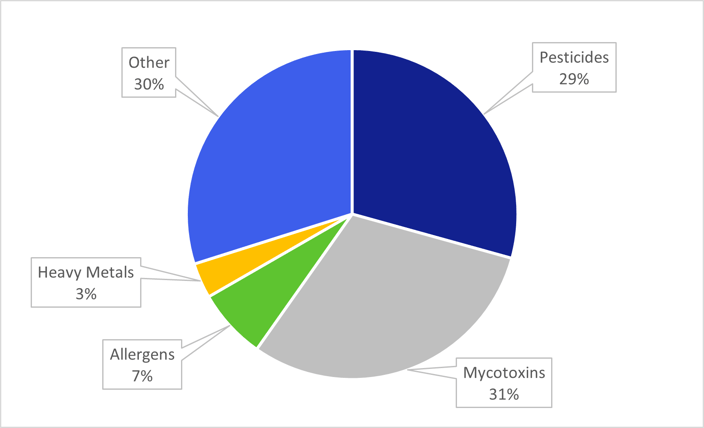 The following graph details the causes of notifications for biological hazards. Salmonella contamination was the most prevalent cause of notifications and it was mainly found in poultry meats and poultry meats products (59%).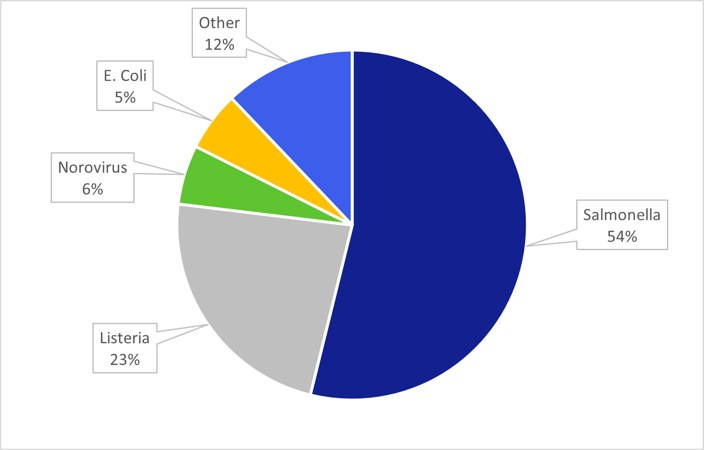 Month by Month Evolution
The year is coming to an end, let's have a look at the evolution month by month of the total number of recalls for the US and EU, and by hazard type, in 2022.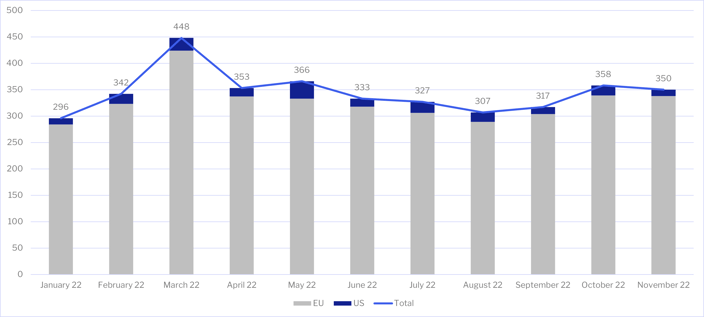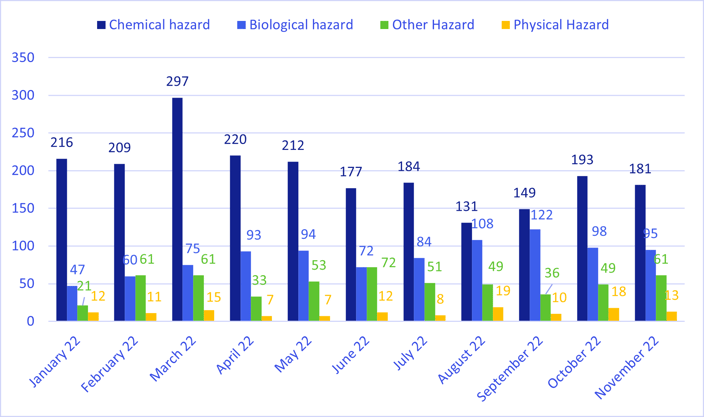 We are working on new food safety and quality topic ideas for next year, don't miss them by subscribing to our blog!