Outbreak and Recall Round Up - August 2022
Let's start this month's outbreak and recall round up by looking at FDA outbreak investigations. Since the beginning of the year, the FDA investigated 16 outbreaks, with 7 of them still active. The latest investigation is related to a Cyclospora contamination for which 60 total case counts were reported.
The table below is a list of all investigations in 2022 (last accessed 2022-08-08; source FDA)

Zoom in on Salmonella Outbreak in Tahini
Tahini from Syria has been linked to three illnesses in New Zealand with recalls continuing across Europe. The three patients have been infected with Salmonella Kintambo. Patients have previously been reported in the United States, Canada and across Europe as part of a wider outbreak. In late July in New Zealand, specific batches of Algota brand Sesame Tahini were recalled due to the possible presence of Salmonella. This is not the first time an outbreak is linked to tahini products; the United States reported six Salmonella Mbandaka cases, one in 2020 and five this past year. From 2019 to 2021, Canada had eight confirmed patients: five for Salmonella Mbandaka, two for Salmonella Havana and one for Salmonella Orion. In Europe, 121 people have been affected since January 2019 in five countries, with Germany reporting the biggest number of cases.
US Recalls
In July, the US database reported 21 recalls related to Food & Beverages. 62% of the recalls were due to chemical hazards, mainly caused by undeclared allergens (10/13). Biological contamination was the reason for 5 recalls. Contaminations from Cronobacter, Listeria and Salmonella have been reported. The recalls involved several brand names, companies, and products.
EU Recalls
In July, 306 notifications have been reported for food products in the EU. The top 4 categories that account for nearly half of the notifications are: fruits and vegetables (16%), nuts, nut products and seeds (12%), poultry meat and poultry meat products (9%) and dietetic foods, food supplements and fortified foods (8%).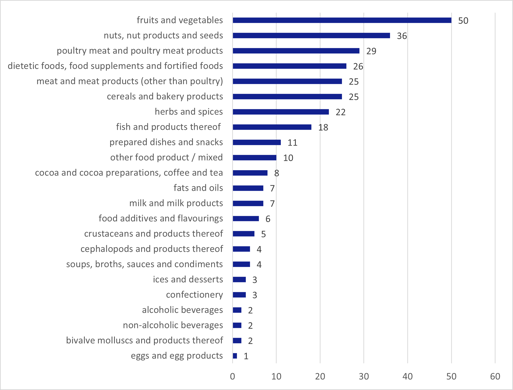 More than half of the notifications were associated with chemical hazards (56%).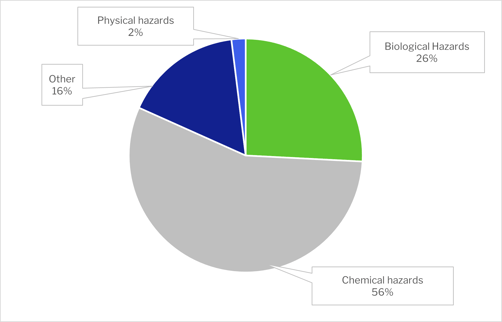 The distribution of chemical hazards is presented below. The main cause of notifications in July was the presence of pesticide mainly in fruits and vegetables (57%), followed by mycotoxins, mainly in nuts, nut products and seeds (62%).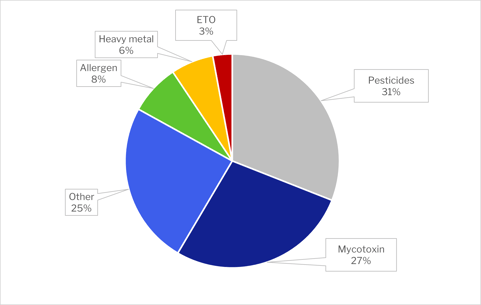 The distribution of biological hazards is shared below. The main cause of notifications in July was Salmonella contamination mainly in poultry meat and poultry meat products (53%).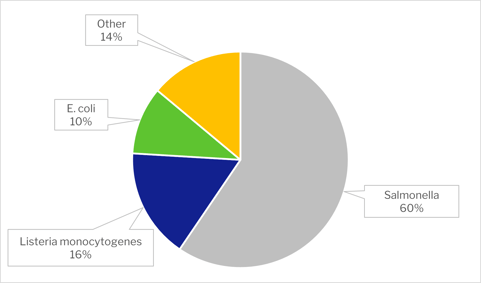 Month by Month Evolution
To finish this month's outbreak and recall round up, let's have a look at the evolution month by month of the total number of recalls for the US and EU, and by hazard type.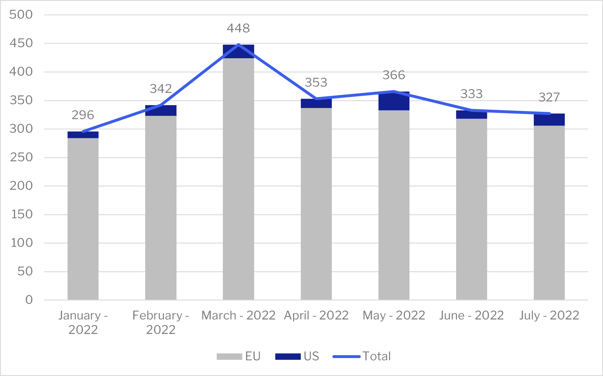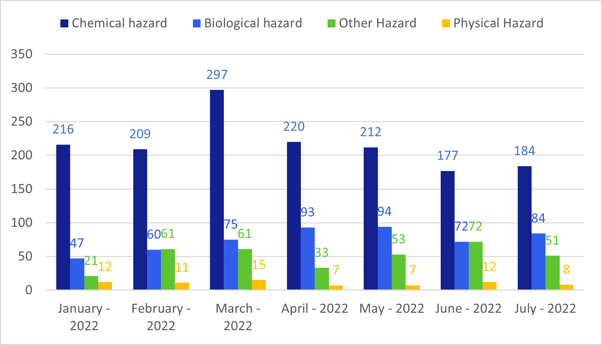 Don't miss next month's Outbreak & Recall Round Up. Subscribe to our blog.